At 10:00 pm:
Chaffoil, the 969, with Tanguy Bouroullec and Rémi Aubrun, seems to have escaped from the small group of 13. Less than 30 miles from Douarnenez, south of Molène, they are in a good situation to maintain their third place until the finish line.
On the series side, the 943, Ambrogio Beccaria and Alberto Riva, are still in the lead and 37 miles away from the finish, with a speed of 6.3 knots. 6 miles behind, the 905, Nicolas D'Estais and Sam Goodchild, have made a good comeback to the second place. He is now fighting with the 944, Amélie Grassi and Davy Beaudart to keep this place.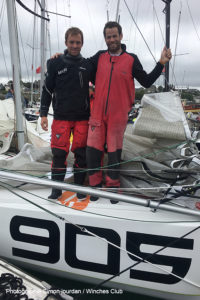 The arrival of all these teams is scheduled between 1:00 and 4:00am next morning, if the wind remains the same.
Behind, the fleet of the second group is very spread out due to the lack of wind over the last 24 hours. The fleet is still more than 80 miles from the finish.