8 October 1977, Penzance (United Kingdom), 24 sailing boats of  6.50 m take to the open sea with a solo sailor on board towards Antigua in the  Caribbean, via Tenerife (Canaries islands). The smallest boats of the offshore race are launched ! Characteristic : their favourite place is the Atlantic and their favourite race : the Mini-Transat.
Organised every two years, the  Mini-Transat, it's this year ! Rendez-vous for the start on 22 September 2019 in La Rochelle, towards Le Marin in Martinique, with a stop in  Las Palmas in Gran Canaria.
The Mini-Fastnet
Since the French were becoming more numerous  over the years  in the fleet it's natural that the organisation crossed the Channel . In 1984, Jean-Luc Garnier, journalist and enthusiast of the « Mini » took over from Briton Bob Salmon who, after the organisation of 4 editions (1977, 1979, 1981 and 1983), wished to pass the baton. Voiles 6.50, the association regulated by the law of 1901 and club affiliated to the  French Sailing Association  is created and organises the  Mini-Fastnet, an annual race looping between Brittany and the Irish lighthouse situated on the  south-west extremity of Ireland (51°23.′3″ N and  009°36.′1″ W) in the county of Cork.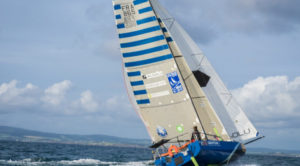 A springboard and a passion
The Mini concept reunites the sailor, the boat and the sea. That's it ! No contact with land ! As doubles or solo, this concept has launched  many of the greatest offshore racing sailors of today.
Never before has an offshore racing school which is the Mini included so many great skilled names in the big prestigious races : Isabelle Autissier, Catherine Chabaud, Ellen Mac Arthur, Thierry Dubois, Laurent Bourgnon, Bruno Peyron, Michel Desjoyaux, Bernard Stamm, Jean-Luc Van den Heede… Let's add that they are numerous from the Mini circuit to have participated in the  Transat Jacques Vabre, the Vendée Globe, the Route du Rhum or the AG2R.