18 JUNE 2022
The first words from the skippers as they step ashore after these six days of sailing are "Ah well, it was long" and they all agree on this point. After six days in a light variable wind, with no precise weather forecast, this is understandable. But it's with a big smile that Victor Mathieu and François Jambou disembarked the 967 Univers 650, having crossed the finish line first at 03:42, this Saturday 18th June.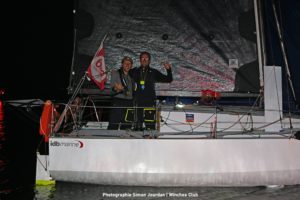 Happy to have arrived and above all to have finished first in the Mini Fastnet, François exclaims "It was a real mess with the weather, fortunately  I  got on well with Victor, otherwise one of us would have gone overboard!" before lying down on the pontoon and saying that it is more comfortable to sleep inside the Mini.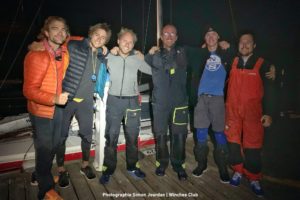 Half an hour later, the second Proto arrives: the 1026 Uoum with Robinson Pozzoli and Arno Biston on board. Also with a smile, they try to eat the delicious hot food provided by the Winches Club "We're hungry! The race lasted longer than expected, we were missing some rations on board…" but it's not  easy to leave the pontoon, between the journalists,  friends and the  boats which come to moor next to it…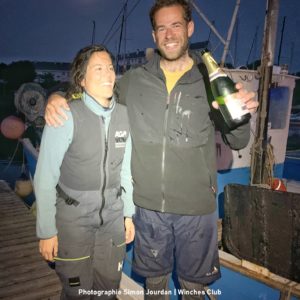 At 04:52, the first of the Series crosses the line – that is to say 01hr10 after the first in the scratch race – and the happy winners are Victoire Martinet and Nicolas D'estais on the 1031 Minion. "It was crazy, there were like 15 starts throughout the race," says Victoire, "when the wind was blowing, the whole fleet would settle down and start again with the next light breeze, the counters almost back to zero. "We were lucky to finish first, clearly," adds Nicolas, bottle of champagne in hand. The skipper of the Grand Ocean 624, Thibault Chomard, who came 7th among the Protos, explains that he dropped anchor in the bay of Douarnenez, to avoid going backwards with the current. Laure Galley and Alexandre Demange on the  1048 DMG Mori, are quite disappointed to have led for most of the race and to have finished 5th. "It's the boat's first defeat" exclaims Laure.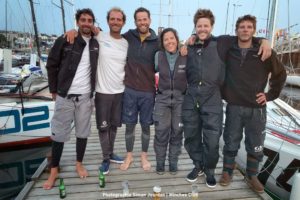 3 hours and 58 minutes separate the first from the last on the finish line, which is not much for a week-long race. In the early hours of the morning, with beer on the pontoon and couscous at the Sailing Club, the skippers exchanged impressions and tactics of the race in a good mood and general tiredness.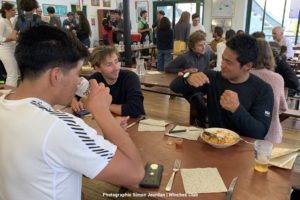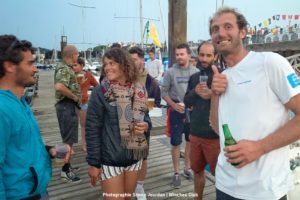 PODIUM
Series :
1- 1031 Minion – Victoire Martinet-Nicolas D'Estais –04:52
2 – 886 Stinkfoot – Lucas de Courreges-Valentin Lemarchand-05:02
3 – 1038 Faun – Adrien Simon-Benoit Hantzperg-05:06
Prototye :
1 – 967 Univers 650 – Victor Mathieu-François Jambou-03:42
2 – 1026 Uoum – Robinson Pozzoli-Arno Biston-04:08
3 – 802 Leon – Basile Gautier-Antoine Even-04:15