At 21:00 the fleet was spread out over 8 miles between the pointe de Pen Hier at the end of the Crozon peninsula and the Chenal du Four. The 1056 Da Gousket sailed by Justin BARADAT and Thomas ANDRE was in the lead ahead of four Prototypes: the 1048 sailed by Laure Galley and Mathis Bourgnon DMG MORY, the 1019 Repremar Logistics sailed by Frederick Waksman and Léo Bothorel, the 1081 XUCLA sailed by Carlos Manera and Federico Norman and the 1050 LEA NATURE sailed by Marie Gendron and Mathilde De La Giclais.
In Series 3, Pogo 3 led the way, but the presence of the first pointed nose, the 520 Gintonic of Italians Fransceco Farci and Pietro Mureddu in 4th position, in their transoms, was also noteworthy.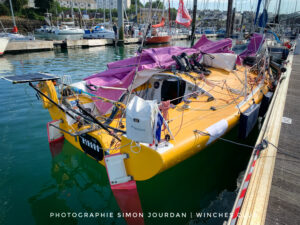 Shortly after the start, a collision occurred between Jean-Baptiste de Sansonetti and Jamie Townsend's 335 and the 198 skippered by Diego Hervella and Orana Larthomas. Significant damage was visible on the 335 at the stern of the boat, prompting the crew to return immediately to Tréboul for repairs, while a quick examination on board the 198 led the skippers to resume their route. At 21:00, the 335 was authorised to set off again and passed the 198 in the Bay, which had finally decided to turn back.
Pauline Regnier and Juliette Bataille's 679 also returned to Douarnenez following a collision.