The 15th Marie-Agnès Péron Trophy ended last Friday with the consecration of the two winners, Ambrogio Beccaria in series and Axel Tréhin for the prototype category, at the awards ceremony.
Ambrogio Beccaria on the "Pogo 3" (943) series has won for the second consecutive time, during a race shortened this year by about half due to weather conditions. Axel Tréhin finally won his first victory on board of Tartine, his plan Lombard, finishing less than 5 minutes before François Jambou. It was a challenging race where it was not possible to let go of the helm and the slightest error had direct consequences.
Monday, June 10 opens the 34th edition of Mini-Fastnet.
Organized since 2002 by the Winches Club from Douarnenez, the Mini-Fastnet is The legendary race! 600 miles, 4 days and 4 nights, duo, through the Scilly Islands, up to the Fastnet Lighthouse in the south of Ireland, then back to Douarnenez.
Program of the week:
Monday, June 10: Class rules for several boats throughout the day.
Chaffoil, the 969, plan verdier à foil, which is just coming from Pogo Structures shipyard, is eagerly awaited.
Tuesday, June 11: Security checks are opened.
Saturday, June 15: Prologue Michèle Marchais.
All competitors participate in a regatta on a short course in the Bay of Douarnenez.
This prologue is named this year as a tribute to Michèle Marchais, who died last fall. Member of the Winches Club since 2005, she has long been the secretary, very active in the local community and involved in the maritime world. She deeply misses in the association.
Sunday, June 16th: Departure of the Mini-Fastnet.
At the forefront:
On the proto side, the duo Axel Tréhin and Thomas Coville immediately attract attention. While Pascal Fievet will join François Jambou on the 865, Erwan Le Méné will leave his 800 to the well-known duo Ian Lipinski and Benoit Hantzperg.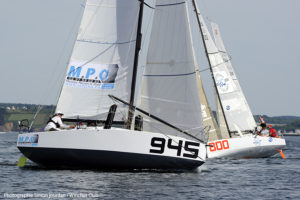 On the series side, Ambrogio Beccaria will be present to defend his title. On Pogo 3 also, Amelie Grassi will take the start of the race with Davy Beaudart on the 944. The "Nez ronds" of Hugo Dhallenne on the 979 and Paul Cloarec accompanied by Jean-Marie Jezequel on the 951 will also be present.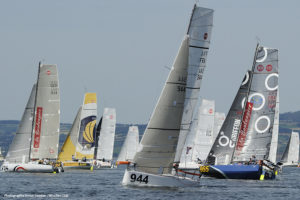 At the moment there are 84 registered boats, 59 series and 25 prototypes.