The 410 is experiencing a technical problem with her mainsail and has notified race management that she is retiring. It is heading for Baltimore to do repairs.
The 956 and the 392 have obviously decided not to go as far as the Fastnet. Alice's 392, after sailing along the Irish coast from Waterford, passed the lighthouse in last place in the fleet, more than 200 miles behind the leader.
Carlos Manera Pascual and Federico Norman's 1081 XUCLA still has a comfortable lead of more than 20 miles over the 967, 1019, 1046, 1068 and 1050. 20 miles currently represents 5 to 7 hours of sailing.  The leader is now 100 miles from the finish, but it's not over yet, as the weather forecast for the Iroise Sea is hardly any more encouraging than it has been over the past few days, as you can see on the map: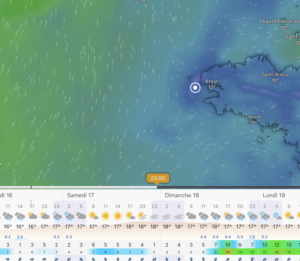 Very little wind is forecast this weekend over the tip of Brittany.
In the Series, Fransceco Farci and Pietro Mureddu's 520 Gintonic is now in third place, 9 miles behind the two Pogo 3s: Michaël Gendebien and Quentin Riché's 921 Barillec Marine-Actemium and the 1056 Da Gousket sailed by Justin Baradat and Thomas André, who are neck and neck. We note the presence of 1034 GPnot.fr, well to the south of the pack, currently in 5th place. The duo on 1092 with Douarnenez-based Marco VARRAY and Pierre SIROT are in 34th position in the middle of the fleet and should cross the finish line on Sunday.