13 JUNE  2022
In the early afternoon of 13 June, the first Prototype, the brand new 1050 Léa Nature, skippered by Marie Gendron and Marine Legendre, passed the Isles of Scilly in a light north-westerly wind. During the night, the race was sailed upwind and the fleet spread out over about 40 miles, 30 hours after the start.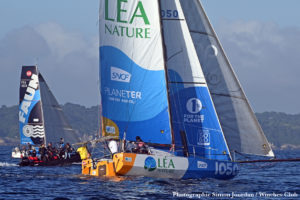 After tacking for about 50 miles in a north-easterly direction, the small boats set a course for the Isles of Scilly.  Laure Galley's 1048 DMG Mori is  overtaken  by Victor Mathieu's 1050 and 967, co-skippered by François Jambou. Among the Series, two Pogo 3's  lead  the race: Team Asi 1007 with Nicolas Dupard and Damien Fleury on board, two newcomers in the Mini class who are holding on to  first place, closely followed by the 1065 Irvin skippered by Thimotée de Carpentier and Matthieu Vincent.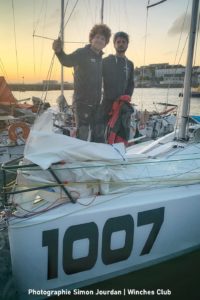 At the end of this afternoon, caps and sunglasses are the order of the day for the Minis in the race: in a light wind and under a blue sky, the average speed is around three knots. Passage through English waters is likely to be long and laborious!