11.06.2022
Active day today on the pontoons, between the Prologue, the last repairs, the race briefing and the welcome drink, the skippers must take care not to get too tired because the tows start around 5 a.m. the next morning, for 4 to 6 days of sailing in the English Channel and the Celtic Sea.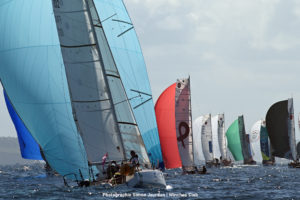 The prologue took place between 12 and 2 p.m. today on a banana course 1.5 nautical miles long between the two buoys, under a radiant sun and a north-westerly wind not exceeding 10 knots.  No damages  to report.  But some skippers returned before the end of the Prologue, pressed for time and the last finishing touches to be done on their boat.  This is the case, for example, of Marie Gendron and Marine Legendre on the brand new 1050 Léa Nature prototype, built by the skipper Marie in 9 months and launched recently, this will be this boat's first race and "there's still some work to do on the seamanship and fittings before the start of the race" exclaims Marie as she moors her Mini to the pontoon.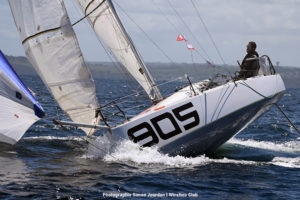 The start of the regatta at 8 a.m. will be on a straight line, across a north wind of 5 to 10 knots scheduled for Sunday June 12.  Headwinds and ridges hover on the way, some skippers are afraid of getting stuck in the calm.  The passage du four already risks splitting the fleet: headwind and against the current, the passage will be challenging!  A little reminder, Offshore Socialclub will broadcast a live video of the start tomorrow morning, it's
HERE.