09.06.2022
The start of the 36th edition of the Mini Fastnet is scheduled for Sunday 12th June 2022, in Douarnenez. The pontoons are full of Minis 650, all the registered boats have answered the call and there are 85 boats or 170 skippers preparing for this mythical race. Mythical because they are seeking out  the Fastnet lighthouse in the south of Ireland, 300 nautical miles from Douarnenez and then returning  to the town with three ports. But doubt is hanging over the pontoons, will the course be maintained? In 2021, the Mini Fastnet went south because of the pandemic, this year the skippers hope that the weather will not have the same effect on the course! This 600 nautical mile race is raced in pairs: a skipper who usually owns the boat and a co-skipper.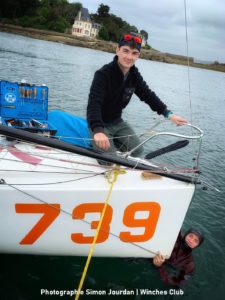 The co-skipper can be either a former Mini racer, like Benoît Hantzperg, Tanguy Bouroullec and François Jambou, or a friend tempted by this race or a family member, as is the case for Martin Revol on the 835, who invited  his brother to race with him. This family man, after a year and a half of sailing with his kids, devotes his free time to Minis races. "I don't have the ambition to win, I'm just looking to progress", says the 40 year old windsurfer.
The regatta currently has about a quarter  prototypes, 12% female participation and several European and international nationalities such as Japan, the United States and Canada. The day before the race, on June 11th, a prologue will be run in the Bay of Douarnenez, to test the boat, the location beacons … and the crews! Indeed, many of the co-skippers have not yet sailed the boat on which they will  race. A light westerly breeze is expected for the Prologue which consists of a small triangle or banana course. "We'll be on a short course, so we'll  have to be careful not to damage  the boat before the real race starts" says Romain Gautreau on the 814 Solidarités Internationale. This year, a non-compulsory medical briefing,   and access to the on-board pharmacy is offered to the skippers  by Marine Roland, a sports doctor.