With just 2 days to go to the start of the Mini-Fastnet, the skippers are all contemplating the weather. Before the general race briefing, Series competitor Justin Baradat and Prototype competitor Laure Galley give us their thoughts on what promises to be a very open race.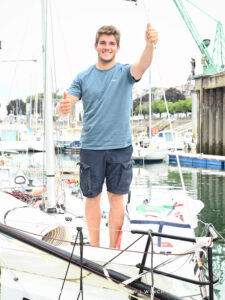 Justin Baradat is from Brest. A sports student in his home town, he has spent his entire career at the top level of the 420 class, and is setting off with his previous helmsman Thomas André, for this 37th Mini-Fastnet on the 1056 Da Gousket. To kick off his Mini adventure, he trained at La Grande Motte in 2022.
"I started the Mini's with this boat in April 2022 when it came out of the yard.
I find it a bit frustrating that the Mini isn't a one-design like the Figaro can be, there are big differences depending on the points of sail and the weather, so not everyone is on an equal footing. I have a Pogo 3, the Maxi's, our big rivals, are more powerful and will hold more canvas and go faster when reaching and in strong winds, but what's pretty cool is that there doesn't seem to be too much wind to go to the Fastnet and my boat drags a lot less water than the round noses. It's a very reliable boat which will take me to the other side of the Atlantic.
My goal is a podium finish in this race, at least first in Pogo 3."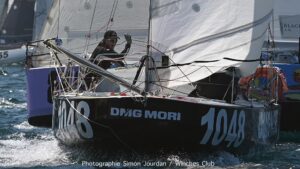 Laure Galley has done a bit of everything: dinghies, J70s, SB20s and a bit of IRC for offshore sailing. She finished 2nd in the Marie-Agnès Péron Trophy this year, 20 seconds behind the winner.
"On the Mini-Fastnet, the conditions are going to be very different from those of the Marie-Agnès Péron Trophy, and  it's going to be rather light like last year, which belies the myth of the Rocher in June. We're going to try to do well, the match seems very open to me, the idea is to be ahead and not to pick up the buoys. I don't have a boat made for light airs, but I'm taking on board a Swiss sailor (Mathis Bourgnon) who's used to racing on lakes in light winds, so I'm counting on him. My objective is the Mini-Transat and the level of Prototypes has improved this year, which makes things very interesting."
As for the weather, we can count on Jean-Jacques Quéré, who will be addressing the subject this evening and especially tomorrow evening at 18:00 during the skippers'  briefings.